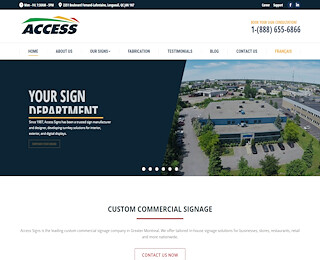 Signage is one of the essential parts of your business but one that is often overlooked. Business owners need to put money in the budget for proper signs. Custom signs in Montreal will not only make your business more visible but will also help establish branding and bring more customers to your location. The best signs are those that utilize your name and logo, if you have one. The first step in the process is to determine the signs that you need. There are a variety of signs to choose from. Meet with a company that designs custom signs in Montreal to learn what options are available to you.
Custom Signs in Montreal
Custom signs in Montreal begin with the design process. First, you need to decide where you want the signs to be placed and how many signs you need. There are different types of signs so you can choose the style that works best for your needs. For instance, lighted letter signs are ideal for placement on buildings and store fronts. Flat signs work well for flat surfaces and areas where lighted signs are not possible. Custom awnings provide a unique and interesting option for stores located in shopping districts and on streets.
You should check for local ordinances to ensure that you choose a sign that meets the legal requirements. Keep in mind that a permit may be necessary for some types of signs. Once you know the placement of the sign you can begin to create a design. Meet with a sign design specialist who is experienced at making custom signs in Montreal.
Create a Unique Image with Signage
You want your business to stand out and be seen by people who pass by. The sign should be large enough so that it can be seen from a distance but not so large that it takes over the space. If you have a company logo you can utilize that in the sign. A flat sign or awning can be made in a variety of colors so you can make it exactly as you choose. Choose a design that helps to give people a good image of your company. Timeless designs are nice because they will look up-to-date for a long time.
High quality signs will last a long time and won't need a lot of maintenance. When you work with a design specialist you will provide ideas and approve of the concept before it is fabricated. The sign will be expertly installed by skilled workers so you can be sure that the sign is properly secured. Your sign will look good and function well for many years to come.
Access is a leading sign provider in Montreal. We offer a wide range of sign styles and custom designs to meet any needs. We work with you to help create a sign that is ideal for your needs and meets your budgetary requirements. Contact Access Signs or visit us online today to learn more about our excellent custom sign choices.
Custom Signs Montreal